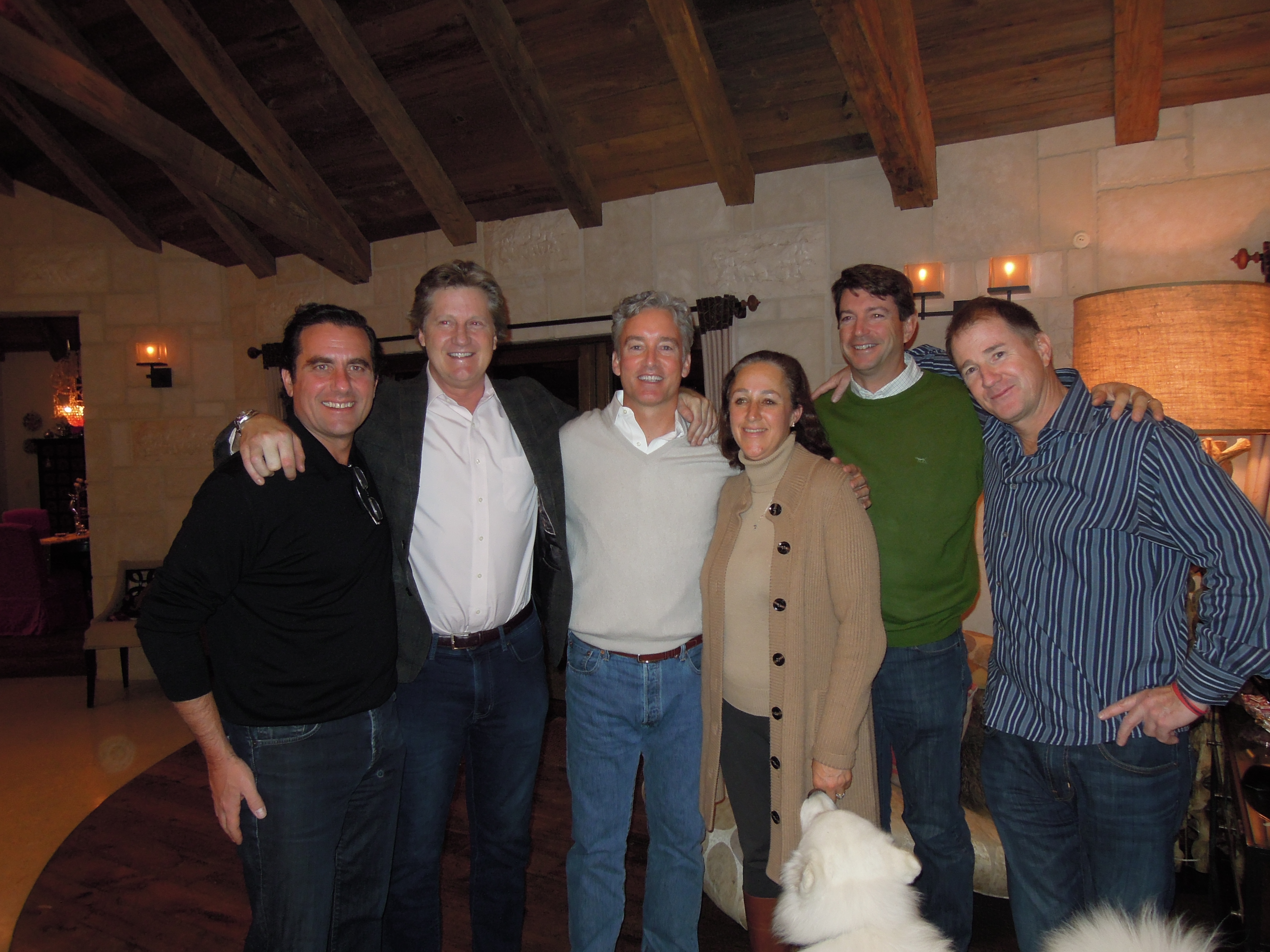 Jun 28, 2021
DKE Alumni Profile: Bobby Mullarkey '84
Thanks to Bobby Mullarkey '84 for answering our recent survey! He told us what he has been up to since Kenyon, his most valuable lesson learned, and what it is like to have a child play at an elite level. Here's what he had to say:
Where has life taken you since you graduated? Give us a brief recap up to this point including career and family highlights.
Wow, 37 years since graduating is a difficult task to give a brief recap on. From a professional standpoint, I currently own and operate a small commercial & residential real estate company with my fiancée, Nina (we've been together for the last 11 years, so I actually call her my wife – we dated prior to my senior year at Kenyon and then reconnected 27 years later). Nina and I buy crazy unique properties that we're able to put a personal stamp on – the business model lends itself to better tenants because they know we're personally involved in every aspect of managing the property. Last year, we purchased a 100 year old villa estate (Villa Narcissa) in a remote area of Rancho Palos Verdes, CA that has 10 rentable cottages and a 7,700 sq ft villa on the property – the crown jewel of the Palos Verdes Peninsula! It wasn't for the typical tenant (or owner) who's looking to roll out of bed and walk 2 blocks to the nearest Starbucks but there are stunning views of Catalina Island and the Pacific Ocean. We closed on the property in the middle of the pandemic and knew that the idea of attracting suitable renters would be difficult at best, but it turned out to be the complete opposite, people wanted outdoor space and clamored for an opportunity to live in more natural surroundings. Now it's a food fight when we advertise a cottage on-line and we've been approached by location managers for movie shoots.
Immediately after Kenyon, I was on Wall Street and the Financial/Hedge Fund community for over 25 years. It took me all over the world and introduced me to some of the smartest and craziest people on the planet, but it also took a toll on my family life. I have 2 sons and 1 daughter whom I'm extremely proud of, but I also have 2 ex-wives so I've taken a few hits along the way.
Today I divide my time between Los Angeles and the New York/New Jersey area, and if anyone knows me a smidgen, I'm an avid fisherman. From Cabo to the Bahamas to the Canyons of the New Jersey Atlantic waters, I fish for tuna, marlin, and wahoo. Brother Nicky Hare '84 did a great trip with me a couple of years ago. Paul Tobin '84 was invited too, but he was too afraid he'd be chumming the waters once we go offshore. I play a ton of tennis too but if anyone asks, I would have a difficult time getting 3 points off of my daughter if we played a set.
What are the most important lessons you learned because of DKE?
You should always go back and right a wrong. This is a difficult one because it took me time to reflect about events in my life and put it into perspective. I didn't know it at the time but my three year roommate at Kenyon was gay and me being a heterosexual male in the 80's, I made more than my share of gay jokes and homosexual slurs. This is something that's incredibly shameful to admit, but my feelings/reputation are much less important than how I must have made my roommate, or anyone else feel. How my actions and comments made him believe it was unsafe and insecure of a time that he had to suppress his true sexuality and live a secret life. Years and years later, word circulated amongst my Deke brothers that my roommate was coming out – I was proud and happy that he had found himself, but I was sooo embarrassed at my old behavior. I called him about 2 years ago and apologized profusely. He graciously accepted my words and told me about his marriage to his husband and the adoption of their son. I was very excited for him, his new family, and the future for him. Youth is no excuse for my bad behavior, but my roommate helped me repair my misguidedness. He was a Deke brother during our years at Kenyon, and a bigger one today for his grace.
When you look back on your time in Delta Kappa Epsilon, what moments do you tend to remember most?
Who can forget the annual Punky Reggae Party, or the Hayride Party to the Robinson Farm?
What has it been lik​e watching your daughter prepare to play in Wimbledon? Can you tell us how this has been for you, your daughter, and your family?
In short it's crazy!!! I'm "That Guy", the one who screams at the TV, or at the stadium "Come On!". When Coco won the US Open Women's Doubles in 2018 and made it to the Singles semi-finals in 2017, I had every fan around me high-fiving after every point. At the US Open in 2017, Boris "Boom Boom" Becker said to me in a very thick German accent "I don't know how you watch your daughter play, I'd be so nervous."
Coco, on the other hand, enjoys the pressure and the vibe from the crowd. The bigger the moment, the more fun she has. She uses the fans to psych herself up. At her 1st quarterfinal Wimbledon match against Maria Sharapova in 2015, Coco was able to get the British crowd behind her to push the Russian to a 3rd set. Coco didn't win but she realize how valuable an asset cheering people are.
Getting a child to an elite level in any endeavor takes a minimum of 3 catalysts – 1) A child who has the focus and drive. 2) A child who has the physical attributes (i.e. ballerinas don't make good basketball players). 3) A parent(s) who is just as committed to their child's dream. Both my ex-wife and I knew the athletic potential of our kids (Coco and her brother Beau) but it was my ex-wife's tenacity and sacrifices that put Coco in a position to succeed. She took Coco to Junior tournaments in the middle of nowhere and fended off the bullying parents of other junior opponents. Me, I was just the proud papa watching his daughter compete.
Tennis is an unique sport. Besides its unusual scoring system, there's no clock to bail you out; you have to win the last point to win the match and your mind can play nasty tricks on you – John McEnroe calls it "choking". As a parent, you can tell when your child has the fire in their belly, or feels tight the moment they walk on the court, and you just have to hope they can overcome the butterflies. Just as the highs can be exhilarating, the lows are extremely stressful. Coco has been playing injured for the last 2+ years and saw her WTA ranking go from #9 in the world over 300. For Wimbledon this year, she used an Injury Protected Ranking to gain entry into the main draw. Coco won her first round match and is scheduled to play in the second round tomorrow. Coco's strong serve gives her a fighting chance to go deep into the Tournament! Definitely watch and know I'll be screaming at the TV!
Can you share any photos of you back at Kenyon or today? Photos with fellow DKE's are welcome!
| | |
| --- | --- |
| Coco at the quarterfinals of Wimbledon 2017 | Coco with the US Open Women's Doubles Trophy 2018 |
| My son, Beau, in disbelief on match point – that's how crazy it is for the family of the player! | Brothers Geoff DeStefano '87, Hans Tiedeman '84, me, Gina Bauman '85 (Dekette), Paul Tobin '84, Charlie Adams '87 |
| Brothers Charlie Adams '87 and Paul Tobin '84 – dinner at my house | Brothers Charlie Adams '87 and Paul Tobin '84 – dinner at my house part 2 |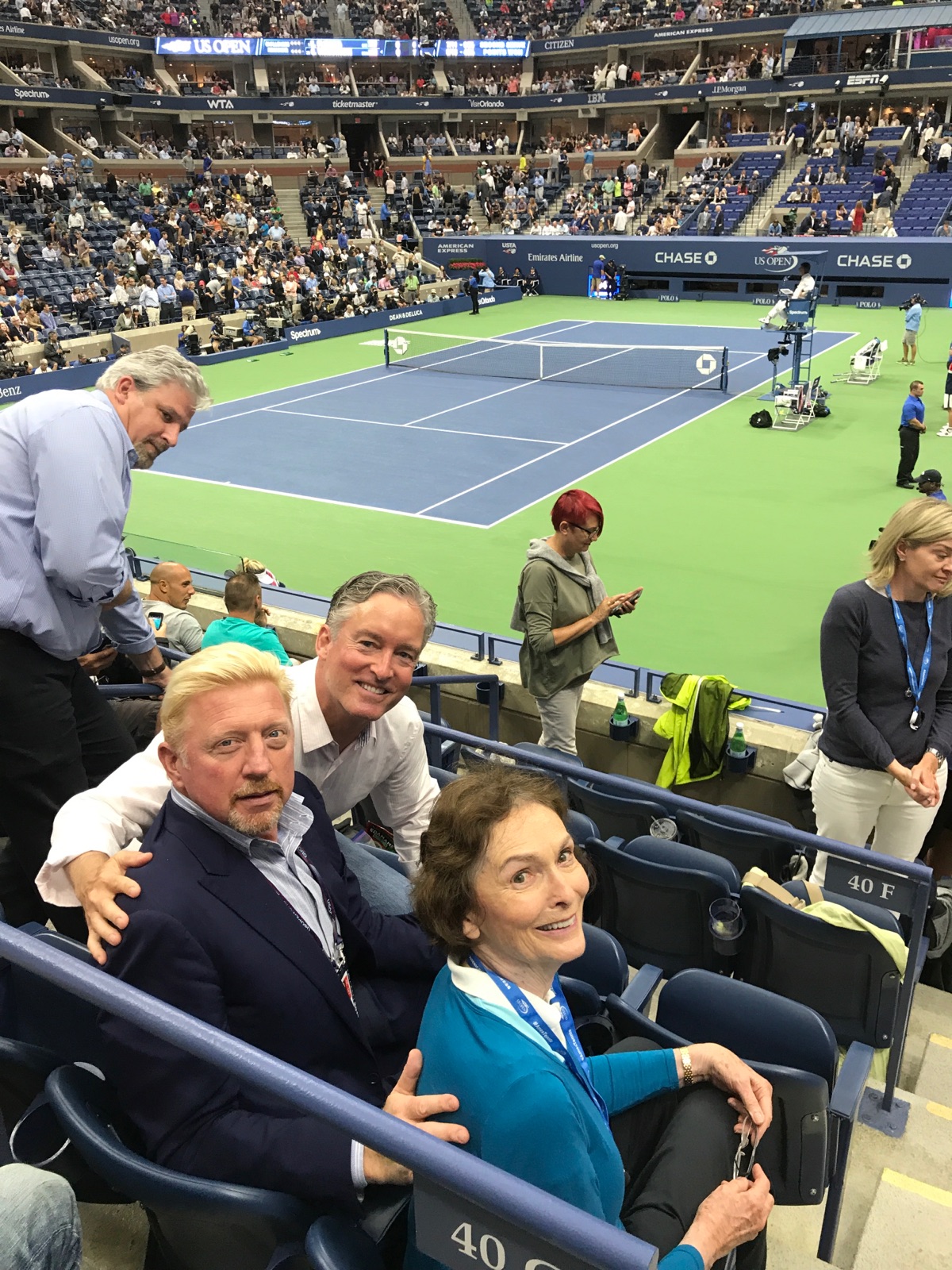 My mother and I with Boris "Boom Boom" Becker