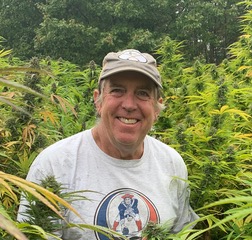 May 5, 2022
Chas Gill on DKE's Sunday night clean-ups, the value of brotherhood, and his thriving CBD business
Chas Gill '82 (kffn@comcast.net) says that he became a DKE for many reasons. "Kenyon's social scene relied on social groups to provide for social gatherings, and I wanted to be part of that. Many of my fellow freshmen who I had bonded with also became members. Lots of memories — grilling a side of beef off the patio, the weekly parties. Oddly for me, I loved the Sunday clean up. It took three times of mopping the floor to get it back to presentable condition. Drinking a Mellow Yellow and mopping was a Sunday ritual."
He updated Lambda DKE on his life after graduation. "After Kenyon I messed around and did not really have any direction or goals. It was a tough job market at that time. My first career was real estate."
After a few years selling real estate in Portsmouth, NH, he pursued a career in real estate appraising, which was where he met his wife, Linda.
"We got married and enrolled in school again to start over," he said. They each got an Associate's Degree in plant and soil technology from South Maine Vocational Tech Institute, and worked in the garden center industry, discovering the fledgling business of specialty-cut flowers.
"For the next 30-plus years, we've built a business selling cut flowers and plants on a local level," he said. "We sold at four farmers markets a week and developed a farm in Bowdoinham, Maine."
Today, he says, they've shifted gears. "We are now in the vertically integrated Hemp/CBD business. Merrymeeting Bay Hemp Company grows, processes and formulates products which we sell online and at local stores and one farmers market a week."
Gill says that his experience in Lambda DKE has stayed with him over the years. "Being in the fraternity helped me to foster strong friendships and helped to teach about getting along with large groups."
Without DKE, I wouldn't have had such a fulfilling social college experience.