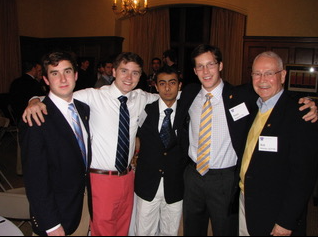 Jun 23, 2021
DKE Alumni Profile: Bob Heasley '60
Up until recently, Bob Heasley '60 served as Lambda's Alumni Advisor and as the eyes and ears of the Alumni Association, as his house bordered the land on which sits the first Fraternity Lodge in America. He recently reminisced about his life and times since graduation:
After graduating from Kenyon in 1960; I was in the U.S. Air Force for 5 years eventually becoming a Captain and air-craft commander of a C-130. I was stationed at Sewart AFB, Tennessee and flew cargo and troops around the world. I recall the Cuban Missile Crisis (1962) and was part of that military build-up. I was in Iran and Pakistan when they were friendly.
My squadron flew the first contingent of U.S. Marines into DaNang, Viet Nam in February 1965 and around Viet Nam for a couple of months. Qui Nhon, Tan Son Nhut, Nha Trang, Bien Hoa and other places were among our stops.
After the Air Force in 1965 I worked for several corporations from Arlington, Texas to Nicholasville, Kentucky. I moved to Nicholasville, KY in 1972 with Gulf States Paper Corporation, eventually becoming Resident Manager. I also served as the Transition Manager at Fold Pak Incorporated in Newark, New York, a corporation Gulf States acquired in 1997.
Peg and I have three progeny. We have two sons, Graham and Scott, and a daughter, Amy. Graham and Amy graduated from Kenyon, and Scott from Center College. We have nine grand children, two of whom graduated from Kenyon. We have a stupendous family.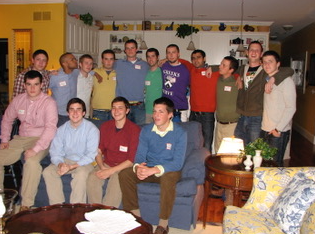 We moved to Gambier in 2000 where Jeff Robinson in 2001 bestowed upon me the grand responsibility of both the Alumni Association Treasurer and Lambda Alumni Advisor. At the time the Chapter had nine members (I think).
With the 150th Anniversary of DKE at Kenyon approaching in 2002, the young Brothers began the project of renovation in the Lodge. It was a challenging task and they did an excellent job. I wish I could remember the names of those young men. They are now 40+ years of age. My, my. I had the exterior of the Lodge repainted and the fence repaired.
Rob Bridges '86 and I worked together to put together the weekend events for the celebration of the 150th anniversary, which was attended by over 70 alumni. With Dean Tom (The Toad) Edwards as our guest, and featured speaker, it was a resounding success. Dean Tom's stories and recollections almost brought down Peirce Hall with laughter. That weekend also featured the first "Dekes on the Deck" reception at our house on Kokosing Drive.
Unlike other Lambda Classes our Class of '60 was not particularly close after graduation, though I always kept in touch with Bruce Overmier '60. It was our Class of 1960 50th reunion in 2010 that brought seven of us together: Jim Hawk '60, John Rusing '60, Barry Auger '60, Overmier, Dick Lamport '61, Jim Wilton '60 and me. The first three attended Kenyon only two years. Auger, Overmier and I still correspond.
I lived next to the Lambda Lodge for 17 years. I attended meetings on occasion and generally oversaw the maintenance of the building. It was there. I was there. It was a proper thing to do. Remodeling the lodge was a challenge.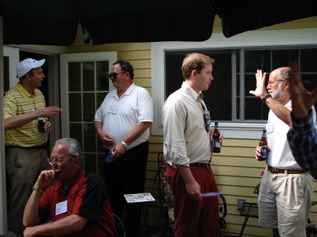 After the Lambda 150th Anniversary celebration, we held meetings every year to build on the success of that event.
In 2008 Hugh Gage (deceased) '59 and I wrote by-laws for the Alumni Association. These replaced unknown by-laws and gave the Alumni Association a foundation of governance.
Our annual meetings in October of each year gave us the opportunity to continue growth and Brotherhood. I have many, many photos of many Brothers at the annual gatherings.
I have omitted many, many names not because I forgot them but there are so many to mention.
Our eternal thanks to Bob Heasley…we owe you a debt of gratitude that can never be repaid.