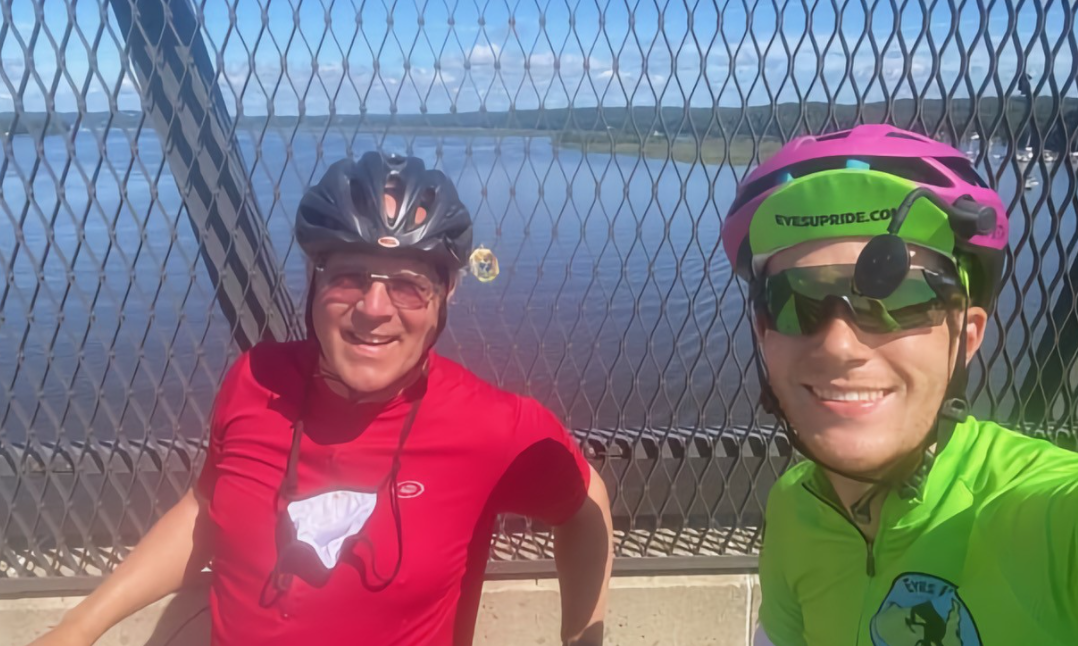 Aug 24, 2021
Eyes Up
UPDATE as of 10/7/2021 : Brother Mark Robinson '81 joined Brother Ben on his coast to coast ride to raise awareness of the dangers that come with distracted driving. Mark said, "Brothers, I had the opportunity to host Ben after a 100 mile day yesterday. He was up and ready to go this morning - after a 5-egg and ham and cheese omelet (which he made himself.) Hungry guy to fuel all those miles on the road." Alumni President Biff Butler '68 confirms the 5-egg omelet regimen, as he met up with Ben a few weeks ago on his ride through Gambier.
Last week Ben was in Colorado and is currently working his way to Seattle. For more information on this ride, read the story here. If you feel compelled to contribute, you can do so here. If you would like to check out Ben's itinerary, do so here.
UPDATE as of 8/24/2021: Ben Grannis '17 is bicycling coast to coast and back over the next six months to raise awareness of the dangers of distracted driving. It's part of a fundraiser for the Text Less Live More Foundation, founded after the death of Merritt Levitan, who was killed by a young driver in rural Arkansas on one of Overland Summers's cross country bike trips. In the small world in which we live, the daughter of Brother Peter Bianchi '78 works with Ben at Overland and Brother Thomas Bulkeley '80 knows the Levitan family.
More on Ben's ride can be found in this story.
If you would like to contribute, simply go to: https://www.eyesupride.com/
And, if you live along his route, Ben invites you to join him on a portion of his ride. You can check out his itinerary here: https://www.eyesupride.com/route