Jun 27, 2022
Lambda Wins Most Improved Chapter Award and Number One Brother Beta at the International Convention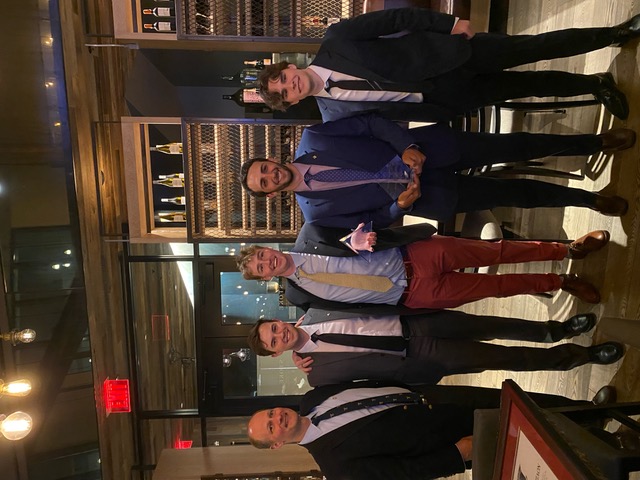 Celebrating the DKE Awards (l-r), DKE International Chairman (and Lambda Alumni) Mason Morjikian '88, DKE Chapter Consultant Morgan McElroy (Phi Epsilon '21), Reilly Scott '24, Andrew Kotler '22 and Aymeric Mauvais '24
At the recent DKE Convention, Lambda won the Delta Trophy for most improved chapter in the country and our own Andrew Kotler won the Napolitano Award for the best Brother Beta among all DKE chapters. A huge round of clicks to Lambda and Brother Kotler.
Alumni President Sam Adams had a chance to interview Andrew for this issue:
Sam: Andrew, let me start by saying how pleased and proud all of your alumni brothers are of your extraordinary achievements in winning the Napolitano Award for yourself and leading Lambda to the Delta Trophy. Congratulations! Were you surprised? How did you feel at that moment?
Andrew: Thank you, Sam. And thank you to everyone who has supported Lambda over the years and given us the foundation to win these awards. I was definitely surprised at both of the announcements, but I was also (and still am) ecstatic. I knew we had a solid chance, given our growth from 3 to 22 brothers and constitutional reform, but there are so many fantastic chapters and Brother Betas out there so it really could have been given to any one of them. And it is a great thing for DKE that there are so many chapters in the running – that means that DKE as a whole is getting stronger which will help foster a successful future. Through winning these awards, I feel like the hard work and long hours that we put in over the last few years as well as the scope of our comeback were truly recognized.
To speak on the Napolitano Award for Presidential Excellence for a minute – Nick Napolitano was a Psi Delta (Wake Forest) DKE who passed away in 2012 while saving a fraternity brother from drowning. He was extremely selfless and is the type of person you strive to be. You can find more about his life and the Nick Napolitano Foundation at this link - https://www.nvnfoundation.org/about-nick. His father, Val, came to present the award, and it was a true honor to meet him and talk with him about his son's legacy. To have my name next to Nick's is one of the highest honors I can think of, and it is a connection I will now have for the rest of my life.
Additionally, thinking about these awards I want to thank the other brothers who petitioned with us – Nate Saindon, Winston Reid, Amir Brivanlou, Andrew Gibbens, John Scandale, and Bryan Yoshino, for everything. We put in some long hours to make this a reality. I also want to thank the 162nd, 163rd, and 164th pledge classes for instilling in us what Lambda DKE truly is. I want to thank Sam Adams, Biff Butler, Jim Pierce, Jim Irwin, James Asimes, and the rest of the Lambda DKE Alumni Association Board, and alumni Rev. Mark K.J. Robinson, Jeff Spear, and the many other generous alumni donors and supporters too numerous to name. Additionally, I want to thank Doug Lanpher, Morgan McElroy, Turner Spears, and Trey Robb from DKE HQ for everything they did to get us back. Lastly, Mick Steiner from Kenyon's Office of Student Engagement is incredible and played a huge role.
Sam: What do you think these awards will mean to the Chapter in terms of its reputation and ability to recruit?
Andrew: We are working to re-establish a culture of excellence at Lambda and these awards are indicative of those efforts. In the eyes of many at Kenyon, we are not "the fraternity that got kicked off" anymore, but instead "the fraternity that worked hard to be the best." These awards signify our willingness to work as hard as possible to achieve a goal and hopefully will attract others who might have that same tenacity and dedication to the things they love. At the end of the day, it is what led us to these awards that will help the most. We now have 20 brothers, a great reach across the school, an updated constitution, and a good relationship with the school. The changes helped us win the Delta Award, but these aspects in themselves will help us greatly in recruitment.
Sam: How was the Convention overall? Did you three connect with other chapters?
Andrew: The Convention was a great experience for us (me, Aymeric Mauvais, and Reily Scott). Due to our suspension, we were not able to attend any DKE HQ functions over the years, so it was fantastic to meet so many people from different chapters. There were over 150 people there between actives and alumni, and we were able to meet many of them. In particular, we spent quality time with brothers from University of Arizona, Northeastern University, University of Victoria, UNC-Wilmington, and others. It is great to hear their stories, their traditions, and their experiences with DKE. We were able to experience DKE on a larger scale, which is an experience I truly believe the chapter should continue to have.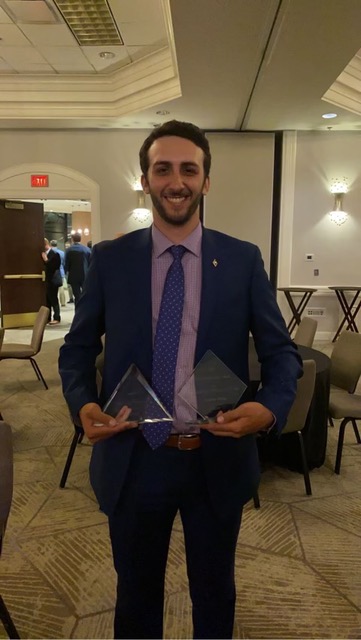 International Award Winning Brother Beta Andrew Kotler '22 with Lambda's two awards.
It was also great to catch up with some Lambda alums. I was able to get drinks with Chris Arnold '08 on the first day and with Mason Morjikian '88 on the last day.
Sam: The Alumni Association was pleased to cover the cost for you all to attend the Convention because we felt it supported Lambda nationally and at Kenyon. What do you think? Do you think Reilly and Aymeric got a lot out of it? What do you think they took home from the event?
Andrew: I could not agree more – going to the Convention helped show Aymeric and Reily what DKE is on an international national level and it will allow them to bring new information back to Kenyon. They were able to attend programming that focused primarily on aspects of chapter building and were able to hear methods that other chapters utilize which they can now bring back to campus. As I mentioned above, we were also all able to hang out with people from different chapters and these relationships are hugely important for Reily and Aymeric. It has led to some lifelong friendships, which is what DKE is all about.
Thank you again to the Alumni Association for supporting our trip. We would not have gotten the same experience without your support.
Sam: Now that you are an alumnus yourself, what are some of the best ways that other alumni can support the chapter? Do you have any thoughts for younger alumni in particular?
Andrew: I think one of the biggest ways alumni can support is through communication. Whether it is text, email, phone call, or visiting campus, actives and alumni getting to know one another further deepens the bonds of DKE. There are so many Lambda alums out there who live very interesting lives, did great things at Kenyon, and do great things now. The more people the actives get in contact with, the better off they will be. It helps with job networking, learning about DKE, and simply making friends. It also helps show that DKE extends way beyond your time at Kenyon – it truly is a brotherhood for life. I was fortunate to be in constant contact with so many alums over the years and I believe that helped solidify my relationship with Lambda.
Sam: Thank you again Andrew for all that you have done, with your brothers, to steer the chapter through rough seas and to restore it to greatness at Kenyon. The Alumni Association wishes you the best in your next endeavor. We expect to be hearing great things about you!
Andrew: Thank you again, Sam. Joining DKE was one of the best decisions I ever made. If anyone is every in New York City, let me know.
I am excited to see where Lambda goes from here. The actives are in a position to keep improving and have a great shot at winning the Lion Trophy in the years to come. In the Bonds!