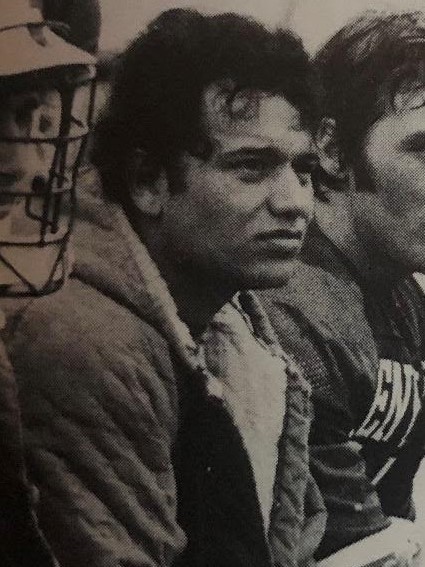 Jan 31, 2022
Special Kenyon Fund Established to Honor Clay Capute '81
Alumni President Sam Adams '81 had a chance to ask classmate Gates Lloyd '81 about his work in co-founding the Clay Capute Lacrosse Fund at Kenyon in honor of Clay Capute '81, who passed away from complications from COVID last year
First off, Gates, can you tell us a little bit about Clay?
Clay was born in Baltimore, Maryland and attended Friends School of Baltimore where he earned varsity letters in wrestling, lacrosse and football. He was given the school's Nicholls Lacrosse Award, the Gray Outstanding Class Athlete Award and was named the football team's most valuable player. In 2007 he was named to the school's athletic hall of fame.
He brought this love of lacrosse and his competitive spirit to Kenyon, where he was a four-time letterman, captain of the program in 1980, co-captain in 1981, and was voted Most Valuable Player in his sophomore year. But apart from the accolades and accomplishments, Clay was a great teammate who made everyone around him a better player and earned the respect of every opponent.
Every game at Kenyon started with him at the faceoff circle (and this was in an era before FOGOs were a thing, so win or lose he stayed in the game). He anchored the extra-man offense, was a deadly shooter, skilled passer, and tenacious defender.
He was a joy to play with, a nightmare to play against, and always just fun to watch. Clay stood 5'4", and no one on the field with him had a bigger heart or made a larger impact on the game.
Away from the field Clay was a wonderful friend, fraternity brother and roommate. He got his work done, and loved a good time. Clay left Kenyon and, aside from time in Pittsburgh to earn an MBA, lived in Baltimore the rest of his life. He married Susan Bratton and raised his children Peyton and Charles there.
What inspired you, and other Lords Lacrosse players Peter Seoane, Tom Keene and Brian Bohn to form the Clay Capute Lacrosse Fund?
When Clay died, Peter reached out in an effort to, in his words, "make something good come of something bad." Tom, Brian and I were 100% committed immediately. We all got busy identifying potential donors and making calls. We were all new to fundraising but this was an easy role to step into.
Let me say I'd never seen a player of Clay's skill before I got to Kenyon. His command of fundamentals, field vison and confidence simply stood out. Peter and Tom had the same impression. He was the consummate teammate; he inspired, took responsibility, supported everyone – regardless of their skill level.
Funny thing is, I didn't know that he played lacrosse until January of our freshman year.
We met in September of '77 on the infamous second floor north of McBride, where Clay roomed with Luke Lockwood '81. Most of the that corridor pledged Deke. It was so rowdy that the first RA quit and was replaced. All that time together and he never mentioned his extraordinary athletic career at Friends.
No one anticipated what Clay showed us when indoor practice started in the Wertheimer Fieldhouse in January, '78.
You have already raised more than $100,000 in contributions and pledges for the Fund, which is an amazing testament. How will these funds be used?
Thanks to remarkable response, we met our minimum goal. It's the first fund of its kind at Kenyon and a fitting tribute to Clay.
Income from the fund will ensure that Coaches Misarti, Klosowski, Avis and Hughes have the resources to support student-athlete programming, travel costs, equipment purchases, personnel expenses, training resources and professional development.
Clay had a great sense of humor. Do you have a story about Clay's time as a Kenyon DKE that you can share?
I agree, and his laugh was so infectious!
In the Fall of '77 42 pledges carried Stuart Lathrop Pierson's "casket" down to the trestle bridge. We were all…shall I say…strongly urged by Brother Beta Jim Pierce '78 to contribute to the effort. Clay was a little shorter than the rest of us. I shouldered in to get my hand on the casket and saw Clay strolling beneath it with a Stroh's beer in his hand. Just walking along, laughing.
Everyone at Lambda is proud of your efforts on behalf of Clay. It shows how our friendships last a lifetime, and beyond. How can brothers donate to the Clay Capute Lacrosse Fund?
Thanks for asking, Sam, it's been a remarkable experience. I want to acknowledge Peter, Tom and Brian. Their participation was instrumental.
To give online (by credit card, Paypal, or Venmo): Visit http://gift.kenyon.edu/
In the "Designation" window, first choose "Endowed Funds or Other (select a fund)"
Next, choose "Clay Capute Memorial Lacrosse Fund"
To give by check:
Please send to the Advancement Office at 105 Chase Ave, Gambier, OH 43022. Checks should be made out to "Kenyon College" with "Capute Fund" in the memo section of the check.
To give using appreciated stock: Please contact Kate Daleiden at daleiden1@kenyon.edu to let her know what type of stock you will be transferring and when so that the College can appropriately identify and designate your gift. The instructions to share with your broker are online here: https://forward.kenyon.edu/ways-to-give/gifts-of-stock/ .
To give via donor advised fund:
The College's mailing address is 105 Chase Ave, Gambier, OH 43022. Kenyon's Tax ID is 31-4379507.
Thank you, Gates!